In a recent Business Insider article, John Ioannidis, Racquel Bracken, and other health tech experts lamented that the Silicon Valley tech ethos of "move fast and break things" is not being counterbalanced by the healthcare principle of "do no harm. (Why everybody gets duped by hot health and science startups, June 2019). Ironically, tech's desire to move fast is slowing its ability to achieve widespread market adoption and profitability for health-related products. The goal of this blog is to help both industries better understand the importance of their cultural differences in order to get high-impact products to consumers more quickly.
 The healthcare perspective is underrepresented in health tech. I spent the past decade serving as the Chief Medical Officer of several health tech startups. With each one, I was initially energized by the potential for responsible disruption. The engineering, design, and product talent—and the money—was unlike anything available to physicians in a traditional healthcare setting. It truly felt like an embarrassment of riches. With each company, I was the only medical professional on the executive team, and usually the only MD in the company. With each one, I knew that we could have been more successful more quickly if the company had had an earlier understanding of the expectations of the healthcare industry and sensitivity to healthcare culture. I observed this same phenomenon in many of the health tech startups evolving into and out of existence around me.
Tech Needs to Get Curious about Medical Culture
 When I left traditional practice to embed myself in Silicon Valley, I recognized quickly that my tech teammates spoke differently than I did. They solved problems differently than I did. They worked differently than I did. If I was going to effectively partner with them to disrupt health care, I needed to learn about tech culture. I read every Silicon Valley holy book I could find—The Lean Startup, The Hard Thing About Hard Things, Measure What Matters, The Four, In the Plex, Hatching Twitter, The Upstarts, The Everything Store, From Good to Great, etc. I learned about OKRs, MVPs, 20% time, flywheels, doom loops, BHAGs, pivots, dogfooding, flat org charts, and scrums. I read about the history of the tech industry and the stories of how the FAANGs became FAANGs. (In a future blog, we will unpack all these terms. For now, just realize that in order to respect a different culture, it's important to learn about why that culture is the way it is.) Too often, my tech teammates did not reciprocate my willingness to understand their culture. This limited the company's ability to design appropriate products, close deals, and compile realistic financial projections. It cost real time and real money.
 Granted, the tech industry has successfully disrupted almost every industry in the last 20 years. Tech entrepreneurs are somewhat justified in feeling like their way is the right way and everyone else should get out of the way. But the reality is that the healthcare industry is different. One of the key differences is that it is not a free market. Full stop. 
In addition, there are multiple, very powerful stakeholders in health care—insurers, regulators, physicians, professional societies, pharma, and patient advocacy groups. Consumers often don't feel like they should have to pay for legitimate health products out of pocket, so simply delighting consumers and getting them to vote with their feet is not enough to achieve widespread adoption, let alone topple the incumbent system. Unlike other industries, a direct-to-consumer product can't circumvent the incumbent stakeholders. That's because consumers will inevitably take the results of their health products to their healthcare providers. If the healthcare provider says, "What is this? This is junk. You've been swindled," it doesn't make for a positive consumer experience. The flywheel cannot gain momentum. You simply have to understand the values and social mores of the healthcare stakeholders to win.
Being Awesome is Not Enough
 So, how do you do that? With data, credibility, and transparency. It is not sufficient to think your product is awesome and convince consumers of this. You have to prove that your product is awesome. And not just awesome, but medically beneficial and economically worthy enough to justify the high cost of implementation. Generating this proof needs to be part of your go-to-market strategy and financial strategy from inception. What's more, there is a well-established formula for how to do this. That means there is no excuse for confusion or delay, if investors and founders do their homework.
An obvious way to ensure success is to balance your leadership team with the right tech and medical professionals. If you go too far in the medical direction, you are essentially a traditional device company. If you go too far in the tech direction, you will waste too much time and energy learning the basics of market access and product-market fit. In general, I recommend hiring most of your engineering, product, and design teams from tech and most of your commercial and medical affairs teams from health care. Medical affairs can help make sure your product solves a real problem in health care and design the proof studies. Experienced sales, business development, and marketing professionals not only have the right contacts, but they also know how to deliver the right messages through the right channels at the right time. A future blog will elaborate on how to do this.
Culture Clash
This table highlights some of the cultural differences I've observed between healthcare and tech.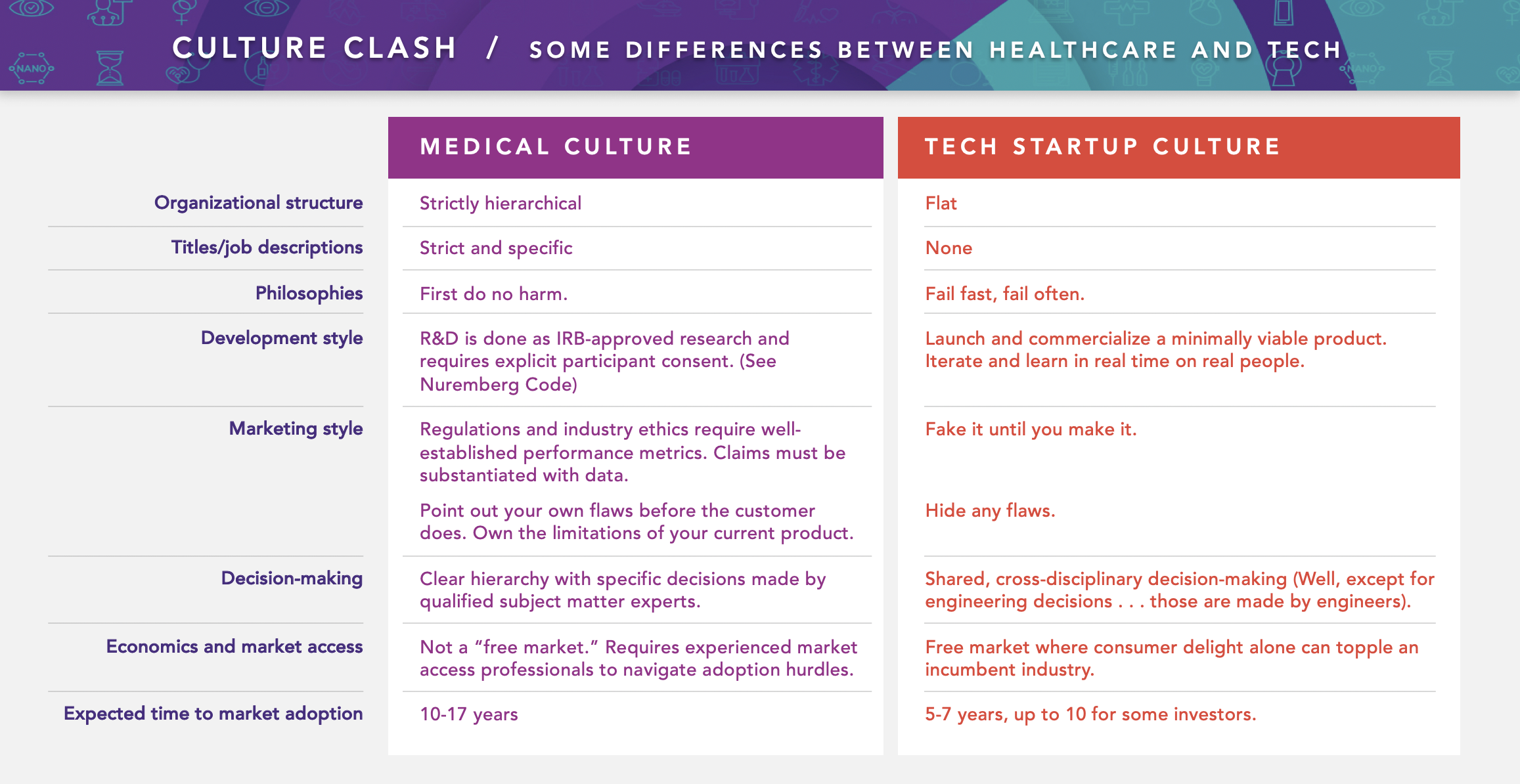 More details on the Nuremberg Code referenced above.
Finding the Right Balance
We need to find the right balance of healthcare and tech cultures to get impactful products to patients quickly and responsibly, and to successfully usher in the much needed disruption of the incumbent healthcare system. The longer we delay prioritizing this balance, the longer we all have to live with the current broken system, and the longer we have to watch billions of dollars wasted on health tech startups  that are doomed to fail because the founders do not understand healthcare culture—both are pretty unbearable!
Jill Hagenkord, MD
MDisrupt Guest Author
Jill is a board-certified pathologist with subspecialty boards in molecular genetic pathology and a fellowship in pathology/oncology informatics. She brings expertise in health product strategy, coding, coverage, reimbursement, medical and regulatory affairs, health policy, clinical laboratory medicine, population health, provider education and patient engagement.
Every health tech company wants widespread adoption for its health product. There is a community of healthcare experts who would love to help you. Talk to us—we can help.